---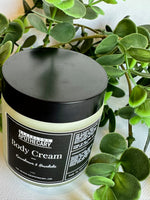 Body Moisturiser - Kawakawa & Harakeke
Our Kawakawa & Harakeke Moisturiser is used to moisturise and heal your skin. It is smooth and luxurious on your skin and is easily absorbed into your skin leaving it soft and decadent. Kawakawa and Harakeke have both been used traditionally by our Maori ancestors. Kawakawa is analgesic, antimicrobial, anti-inflammatory and antiseptic. Harakeke has similar properties to kawakawa, analgesic, antimicrobial, anti-inflammatory and antiseptic properties. Harakeke is also known as the "Aloe vera" of New Zealand. Kanuka adds a triple factor to this lotion.
Benefits
Can be used for eczema, dry skin, sunburn, rashes and other skin conditions
Healing and Moisturising
Protects the skin
Nourishing oils
Does not clog pores
Great for all skin types
And Especially:
Handmade with love & care
Baby/Child friendly
Paraben Free
Phthalate Free
100% Synthetic Free
100% Cruelty Free
Directions:
Apply a small amount of moisturiser to clean, dry skin after shower or as needed.
Ingredients:
Aqua, Kawakawa (Macropiper excelsum), Sweet Almond oil (Prunus amygdalus), Blackcurrant seed oil (Ribes nigrum), Avocado seed oil (Persea gratissima), Jojoba oil (Simmondsia chinensis), Hemp Seed oil (Cannabis sativa), Harakeke extract (Phormium tenax), Kanuka essential oil (Kunzea ericoides), preservative*, natural emulsifier.
*Paraben free
Caution
For sensitive skin always perform a patch test before applying new products.
For external use only
Keep in cool dry area.
Expiry Date: 12months after opening
Please do not hesitate to contact us for further information.
Let Us Know that you Love our Products
Like us on Facebook: www.facebook.com/beverlynsapothecary
Follow us on Instagram: www.instagram.com/beverlynsapothecary
Returns & Exchanges
NOT ACCEPTED
But please contact us should you have any problems or questions about your order.