---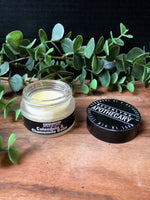 Calendula & Chamomile Balm
Calendula & Chamomile Balm
Calendula and Chamomile Balm is soothing, comforting and known for its anti-inflammatory, analgesic and skin regeneration properties. This product is ideal for sensitive and eczema prone skin.
Benefits
Calendula and Chamomile balm is made from an infusion of herbs and will provide relief from:
Healing skin irritations such as cuts and grazes
Softens & soothes dry skin
Reduces inflammation, relieves pain, and aids skin regeneration
For dry, sensitive or irritated skin
And Especially:
Handmade with love & care
Paraben Free
Phthalate Free
100% Synthetic Free
100% Cruelty Free
Ingredients
Calendula (Calendula officinalis) infused in Sweet Almond Oil (prunus dulcis), Chamomile (Matricaria recutita)infused in Sweet Almond Oil (prunus dulcis), Apricot seed Oil (Prunus armeniaca), Shea Butter (butyrospermum parkii), Beeswax (cera alba), Vitamin E (Mixed Tocopherols), Rose Geranium Essential Oil
Directions
Apply to affected areas to comfort any itchy, sore, irritated or dry patches on the face or body. Use as often as required
For sensitive skin always perform a patch test.
Do not use if you are allergic to any of the ingredients
Expiry Date: 12 months after opening
Storage: Keep in a cool, dry area
Let Us Know that you Love our Products
Like us on Facebook: www.facebook.com/beverlynsapothecary
Follow us on Instagram: www.instagram.com/beverlynsapothecary
Returns & Exchanges
NOT ACCEPTED
But please contact us should you have any problems or questions about your order.