---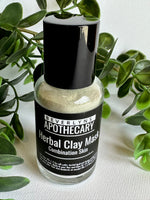 Herbal Clay Mask - Combination Skin
Herbal Clay Mask - Combination Skin
Botanical Clay Mask works on the outer epidermis, removing facial skin debris, exfoliating, hydrates and soothes skin making skin look younger and more supple.
Weight: 35g 
Benefits 
Detoxification
Exfoliating the skin
Controls oiliness
Antiaging
Soothes and Hydrates
Toning
Reduce breakouts
And Especially:
Handmade with love & care
Paraben Free
Phthalate Free
100% Synthetic Free
100% Cruelty Free
Ingredients
French Green Clay, White Kaolin Clay, Organic Matcha Powder, Organic Spirulina Powder, Organic Aloe Vera Powder, Rosehip Oil
French Green Clay works on the outer epidermis by drawing out the impurities from the pores, exfoliating dead skin while also toning and firming the skin. It stimulates circulation which helps heal blemishes. Soothes and relaxes the skin.
White Kaolin Clay is useful for oily and acne prone skin where its drying and cleansing properties help clear the skin. It tones and tightens skin making the skin firmer and supple. Leaves skin soft and moisturized while balancing skins natural pH level.
Matcha Powder contains chlorophyll which is natural antibacterial. It helps eliminate bacterial which causes acne. It reduces redness and soothes the skin.
Spirulina is rich in nutrients, vitamins, fatty acids, and antioxidants. It helps decrease inflammation, tones the skin and enocrouages cell turnover to promote a younger looking skin. It also helps reduce swelling, acne and acne breakouts by encouraging faster healing and reduce bacteria overgrowth.
Aloe Vera Powder helps moisturize and soothe inflamed skin. It also reduces pore size, fine lines and wrinkles.
Rosehip Oil prevents pre-mature aging, corrects dark spots and hydrates dry, itchy skin. It helps regenerate skin cells and repair damaged tissue. Rosehip stimulates the production of collagen which forms the protective tissues in the body making the skin firm and prevents fine lines by advancing collagen formation.
Directions
Mix clay mask with water, milk, rose water or apple cider vinegar to make a thick paste. Brush the clay on your face and leave for 15 minutes. Wash off with lukewarm water. Follow up with toner and moisturizer. Use once a week as part of your regular skincare routine.
Caution
It is recommended to do a patch test first to ensure that there is no reaction.
If irritation occurs, please discontinue using the product.
Storage: Keep in a cool, dry area
Please do not hesitate to contact us for further information.
Let Us Know that you Love our Products
Like us on Facebook: www.facebook.com/beverlynsapothecary
Follow us on Instagram: www.instagram.com/beverlynsapothecary
Returns & Exchanges
NOT ACCEPTED
But please contact us should you have any problems or questions about your order.